This one-off hot rod was built by one very passionate enthusiast using archive drawings from Plymouth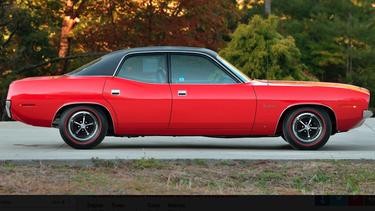 Article content
Mopar purists, beware: it might be wise to avert your gaze. The rest of us need not wipe our glasses nor adjust our sets — this is indeed a four-door 1970 Plymouth Barracuda, one which was finely designed and carefully constructed using original drawings hauled from the Plymouth archives.
We apologize, but this video has failed to load.
Sounds Fishy: Four-door Plymouth Barracuda hits auction block
Back to video
Built by one Dave Walden, a noted restoration specialist who had already finished multiple factory-spec refurbishments of hairy-chested Mopars, work began about ten years ago using a stripped-out 1972 Dodge Coronet sedan as a base from which to start.
Historians will note the B-body Coronet was a world apart from the E-body Barracuda back in the early '70s, but Walden and his team apparently only used the donor car's roof, A- and B-pillars, and some of its rocker panels as a launching point.
Article content
According to the builders, every single body part was altered in some form so that not a single exterior panel will fit anything cranked out of a Chrysler factory. Fenders and quarters were all massaged from existing units or made from scratch, to say nothing of parts like the trunk lid and windshield frame.
If, like us, you are wondering how the doors were constructed, Walden is said to have shorted a pair of reproduction E-body doors for the front two; and created the rears from the rear section of other E-body doors, plus the forward section of E-body quarter panels.
Far from a hack job or backyard project, the builder actually registered a patent for this design, calling it one of his own before going ahead and Photoshopping his creation into old brochures for the Plymouth lineup in 1970.
Article content
Recommended from Editorial
Car Review: 2022 Dodge Challenger SRT Hellcat Redeye Widebody Jailbreak

Plymouth Barracuda clone more fun than the original
Many gearheads in the collector world were also surprised by his decision to have the state of Montana issue an entirely new VIN for the car, a step generally reserved for kit cars and the like. Even beyond that, those in the know say this builder considered himself the original manufacturer of the car. Given all this work, perhaps that is a point difficult to argue.
Under the hood is an H-code 340-cubic-inch V8, backed up with the likes of a Torqueflite transmission and options such as power brakes. Walden said construction of the car consumed over 10,000 man-hours prior to being completed in time for Mopars at the Strip in 2017. It went on to pop up at places like the SEMA show in Vegas prior to Walden passing away from cancer in 2019. The car then found its way into a private collection, whose owner is now offering it for sale.
This quirk of history will hit the auction block this January at the Mecum auction in Kissimmee, Florida.
link