According to a BBC report, in precisely two minutes and fifteen seconds, AirCar can transform itself from a car into an aircraft. When in the air, it can fly about 1,000 kilometers at a height of 8,200 feet at a cruising speed of 170 kilometers per hour and is built to carry two people with a combined weight limit of 200kgs. Upon landing, its wings fold down along its sides and it can be driven straight off the runway into the city.
Klein Vision, the makers of AirCar state that it has taken them about two years to develop its prototype and they already have about 40,000 orders in the United States alone. Industry experts are confident that flying cars like AirCar will provide the much-needed respite to exigencies in the transport sector. Its fuel consumption is also on the economical side compared to other aircrafts.
"AirCar certification opens the door for mass production of very efficient flying cars. It is official and the final confirmation of our ability to change mid-distance travel forever," said Professor Stefan Klein, the inventor, leader of the development team and the test pilot. "50 years ago, the car was the epitome of freedom," says Anton Zajac, the project cofounder. "AirCar expands those frontiers, by taking us into the next dimension; where the road meets the sky."
Waymo has launched Trusted Tester Program in a few cities in the United States earlier this year enabling testing enthusiasts to sign up for an autonomous ride through their hailing service app Waymo One™. Speaking about it, John Krafcik, Waymo CEO stated that the first signal they received that they really had something special was, the overwhelming demand which told them about the possibility that they could find the future of mobility.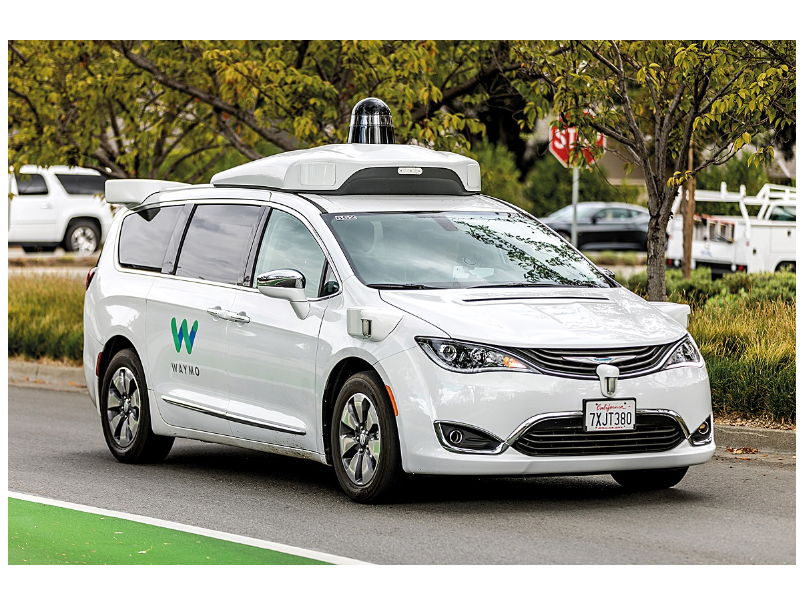 "There were 10,000 applications to join the program within 24 hours and right now, we are in this position where there is more demand for seats in our cars than we can actually provide, which is not a bad problem to have", says Krafcik.
People who have been driven around by Waymo cars vouch for its safety measures both inside and on the road amidst other vehicles. It tracks other motors, cyclists, pedestrians including trash cans by the side of the road. It follows traffic rules and maintains lane disciplines, sometimes much better than its human counterparts. Passengers are provided with a panel of push buttons for pulling over, unlocking the doors and calling for help in case of an emergency.
Another interesting feature about Waymo that its riders take absolute pride in is, their feedback actually gets incorporated into the system and becomes available with the next update. Rolinda, a San Francisco resident and a frequent Waymo user, says the day Waymo becomes just another car on the road, merging with the traffic, it has truly arrived and with each update, it is inching closer to it.
According to its Product Development team, Waymo's vision is to build a "driver" that would make it easy for people and things to get where they are going and their work has the potential to transform lives. With the team gaining experience deploying each Waymo Driver across a range of vehicle platforms and integrating users' feedback, they are now providing rides to hundreds of San Franciscans. Before Waymo One™ was launched in Arizona, they used a comprehensive set of evaluation processes to validate the performance of the vehicle. Apple is targeting 2024 to release its fully automated self-driving electric vehicles keeping up with the 2030 target plan for going green. When Apple enters a market, its topography will never remain the same. It has happened before in the tech space with personal computers and smartphones and it is going to happen with cars too.
A couple of years ago, in a candid moment, Tim Cook, Apple's CEO spoke publicly about Apple's work on autonomous driving software, confirming the company's work. "We're focusing on autonomous systems. It's a core technology that we view as very important. We sort of see it as the mother of all AI projects. It's probably one of the most difficult AI projects to actually work on." — Apple CEO Tim Cook on Apple's plans in the car space. Rumors speculate that Apple Car will feature a completely new battery design that would revolutionize technology while also reducing costs and increasing its range. It is also reportedly deploying LiDAR sensors that can log 300,000 points per second at a range of upto 100 meters, mounting 14 of them to the car with four facing forward, two at the back and two at each corner.
There is no confirmed news yet about whether the development of software, chip and integrating technology will be outsourced or built in house, although the latter is highly probable given the revenue from iPhones surpassing $46 billion. However, Apple's plans for its design and development have been kept confidential and apparently it is testing its sensing and AI technologies using Lexus RX540h SUVs in order to keep its design in wraps until it is officially unveiled.
Speculations rising from Apple's numerous patent applications indicate that its self-driving system could alter its behavior depending on the stress levels of its passengers using a set of internal sensors and capturing relevant data points continuously. If the car's occupants were found stressed, the system could reduce its speed or take turns around corners slowly. Its skidrecovery systems would keep the car under control during precarious situations.
However, as alluring as the technology behind driverless cars is, it is crucial to put in place all the necessary regulations before they are mass produced. Although there is currently no universally accepted approach for evaluating the safety of autonomous vehicles, Waymo uses multiple processes ranging from computer simulations, structured testing on closed courses and driving on real roads. While introducing the fifth generation Waymo Driver on the Jaguar I-PACE vehicle platform in San Francisco, highly trained specialists sat behind the wheels so that they could disengage the autonomous mode of the vehicles and take over driving whenever they felt was needed.
With ongoing discussions among the policymakers, regulators and industry leaders, it is not yet clear as to who should be held accountable in the event of a mishap. Since an autonomous vehicle must work in conjunction with hardware, software and sensors, an accident could be caused by the malfunctioning of any of them in which case, the driver cannot be held responsible for it. If it is caused due to the AV system not undergoing timely updates as required, then the driver would become liable. On the other hand, the blame could pass to the manufacturers if there is a lack of compliance with the security standards. Lastly, the local authorities would also be culpable in case of shortcomings in ensuring highway safety.
In India, all transport regulations are governed by The Motor Vehicles Act, 1988 which does not even allow testing of AVs on Indian roads. An amendment to it was proposed in the MVA 2017 which incorporated testing of self-driving vehicles but it is still pending approval. The current laws do not hold the manufacturing and insurance companies liable in case of a casualty.
Therefore, the situation gets tricky while assessing liabilities with driverless cars because technically, no one is at fault! And yet, the legal troupe in India considers the autonomous system a necessary evil because, although there are several challenges associated with this technology, it's upside is enormous.
There are over 1.3 million casualties every year from road accidents and most of them are said to be caused by human errors. According to a Mckinsey report, autonomous vehicles could reduce road crashes by ninety percent. This combined with the plan to make Earth greener and safer has been empowering the idea behind our driverless future. As they work to make commuting safer and easier, industry leaders are proud of their progress and the numerous employment opportunities they are creating along the way such as teleoperators, remote assistance drivers and so on.
By Ranjani Krishnamurthy
Disclaimer: Content Produced by Mediawire for Times Auto Report

link