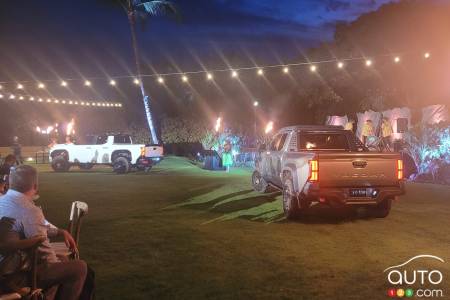 The all-new 2024 Toyota Tacoma being unveiled
Photo: D.Rufiange
•    Toyota has unveiled its new 2024 Tacoma truck … in Hawaii.
•    The midsize pickup gets a hybrid powertrain featuring a 2.4L 4-cylinder turbo engine good for 326 hp and 435 lb-ft of torque.
•    The TRD Pro variant has undergone significant and major improvements.
•    A new, more rugged Trailhunter variant is also being introduced.
The 2024 Toyota Tacoma was introduced in Hawaii last night; Auto123 was there for it as it's in the state for the launch of another Toyota vehicle, the new Grand Highlander. News on that to come, of course.
Why did Toyota choose this location to show their overhauled Tacoma to the world? Because this is where, year after year, the most Tacomas are sold. In fact, it's been the best-selling vehicle in the state for over 20 years. 
There's much to unpack regarding the 2024 Tacoma. Here's an overview of what was presented, as we await the opportunity to test-drive he mid-size truck.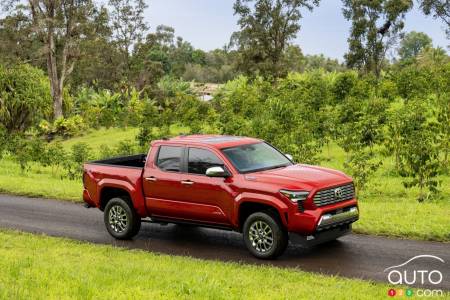 Red 2024 Toyota Tacoma limited
Photo: Toyota
New structure
This is no minor redesign, as was the case in 2015. This time, the model is completely redesigned, starting with a new platform, the TNGA-F (Toyota New Global Architecture) first used with the Tundra and Sequoia. One of the major new features is a new multi-link rear suspension with redesigned springs (optional). Toyota promises an improved driving experience and handling. 
It should be noted that the development of the vehicle was entrusted to Toyota's CALTY studios in North America. The aim was to preserve the model's rugged image, but with an emphasis on clearer differentiation between versions. Each version has been improved to make it even more versatile, but also more competent in off-road driving, obstacle clearance and driving at high speeds in a desert landscape, for instance. 
"We strove to provide even greater attribute separation between grades. Each has a distinctive focus on the core attribute and uses hardware, spec, and performance-based tuning to deliver that unique experience more so than in the past." 

– Sheldon Brown, Chief Engineer, Tacoma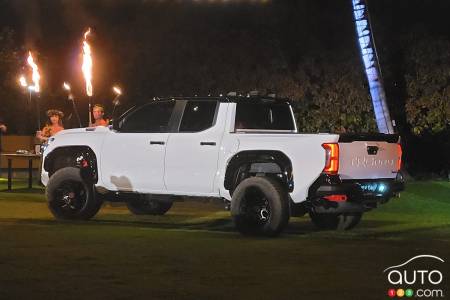 White 2024 Toyota Tacoma TRD Pro
Photo: D.Rufiange
The mechanics
As for the new hybrid configuration, an iForce-Max engine (a 2.4L turbocharged 4-cylinder) will deliver 326 hp and 465 lb-ft of torque. This unit will be available on TRD Off-Road and Limited models, and standard on TRD Pro and Trailhunter models. 
The standard engine is a 2.4L 4-cylinder turbo unit good for 278 hp and 317 lb-ft of torque. 
Both engines are paired with an 8-speed automatic transmission. The good news is that the regular engine can be paired with a 6-speed manual gearbox. Note that power is limited to 270 hp and 310 lb-ft of torque in that case. 
The maximum towing capacity of the model will be 6500 lb while the payload increases to 1709 lb.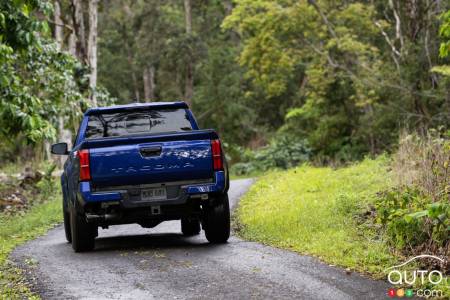 Blue 2024 Toyota Tacoma TRD Sport
Photo: Toyota
The versions
The Tacoma will come in six flavours: SR5, TRD Sport, TRD Off-Road, Limited, TRD Pro and Trailhunter. In Canada, all models are in four-wheel drive configuration and feature an electronically controlled two-speed transfer case with high and low range. 
The TRD Off-Road, TRD Pro and Trailhunter models get an electronic locking rear differential as standard equipment. 
The new, more luxurious Limited version feature a permanent four-wheel drive system with a lockable center differential on i-Force Max models.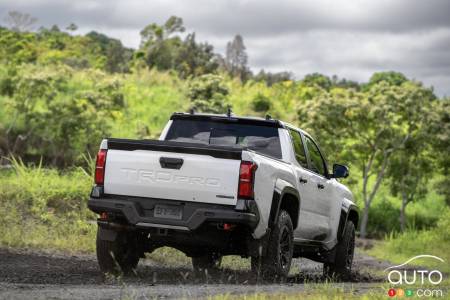 White 2024 Toyota Tacoma TRD Pro
Photo: Toyota
Without listing the specifics of each version here, suffice to say each one has a specific vocation. 
For example, the TRD Pro model has been reinvented to compete with the likes of the Chevrolet Colorado ZR2 and Ford Ranger Raptor. To optimize its capabilities, the version also offers 33.8-degree approach, 23.5-degree breakover and 25.7-degree departure angles. The model gains two inches in height at the front and an inch and a half at the rear. Most importantly, it is three inches wider than an SR5 model. Its style is unique, and it rides on 33-inch wheels.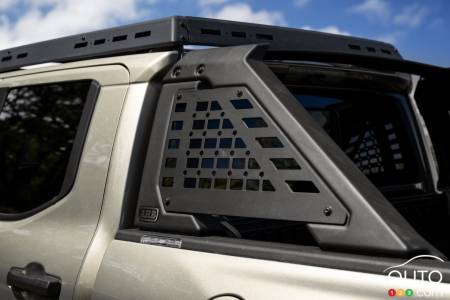 The rear of 2024 Toyota Tacoma Trailhunter
Photo: Toyota
The other model of note is the Trailhunter. While the TRD Pro model is there for high speed off-roading, this new model is there to go even further wild. To develop it, Toyota worked in collaboration with the Australian firm ARB. Basically, this model has been equipped with the necessary components to get to places where others can't follow. We will come back to you ASAP with more information about this new variant.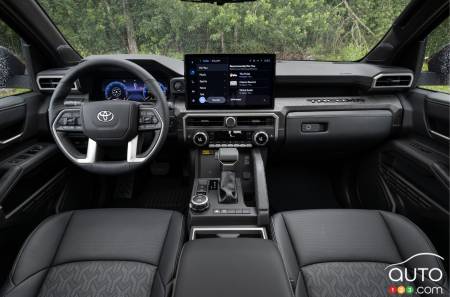 The interior of 2024 Toyota Tacoma Limited
Photo: Toyota
The interior
Inside, everything has been redesigned and the model features Toyota's new interface for connectivity. The centre console gets an 8- or 14-inch screen, depending on the equipment level, while the instrument cluster shows a 7- or 12.3-inch screen, depending on the model. 
In terms of body configurations, two types of cabs are possible, as well as two body lengths (five and six feet). 
On the safety front, all 2024 Tacomas are equipped with the TSS 3.0 safety suite, which features collision avoidance with pedestrian detection, adaptive cruise control, lane keep assist, traffic sign recognition, lane departure warning with steering assist, and automatic low beams, among other features.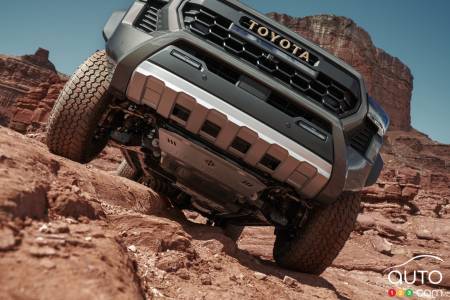 Green 2024 Toyota Tacoma Trailhunter
Photo: Toyota
On-road testing
Until we get behind the wheel of the model, we'll stick to this basic information. We'll soon have the opportunity to present each variant with its own characteristics. One thing's for sure, the company seems to have done its homework to deliver the best model in the category.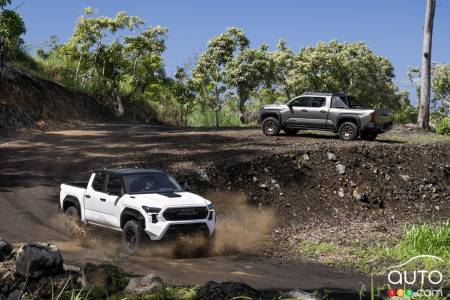 The 2024 Toyota Tacoma TRD Pro and Trailhunter models
Photo: Toyota
2024 Toyota Tacoma pictures

link