For Toyota, 2023 will be a year focused on performance and electrification for all, but also one of continuity… until 2024. We take a look at what Canadian consumers can expect when they enter Toyota's showrooms this coming year. 
THE CARS 
Toyota Camry
The midsize sedan, though still offering up a strong and varied lineup, is starting to show some signs of fatigue. Introduced in 2018 in its current form, the Camry has since evolved somewhat, but the spectre of aging looms above it.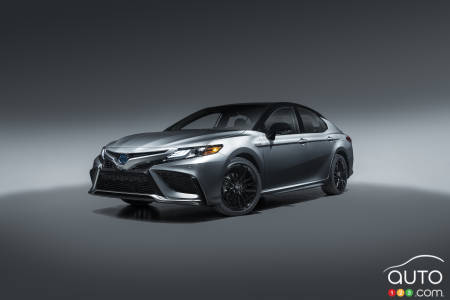 2023 Toyota Camry Hybrid
Photo: Toyota
The oldest car in the lineup has benefited from the disappearance of several competing sedans – more will be leaving the market shortly, by the way – to grab a larger share of the market. 
The Camry is still available with three engine options: a 2.5L 4-cylinder, a 3.5-litre V6 and a hybrid option that pairs an electric motor with the brand's Atkinson-cycle 4-cylinder. And don't forget the all-wheel drive option, available with the naturally aspirated 4-cylinder only. 
For 2023, the Camry is also available with two Nightshade packages and the sporty TRD version with a V6 engine. 
The mid-size sedan may well change drastically for the 2024 model year. Toyota doesn't want to fall behind the new 2023 edition of the Honda Accord, the Camry's biggest rival.
See also: Toyota Canada Shares Pricing, Trim Details for 2023 Camry
Browse cars for sale available near you
Toyota Corolla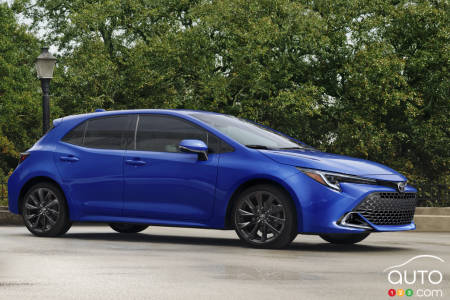 2023 Toyota Corolla
Photo: Toyota
One of the most recognized cars in the world, the Toyota Corolla gets a slight facelift for 2023. Indeed, both the sedan and hatchback ends are slightly redesigned, while new colours and new wheels are offered. The TSS 3.0 suite of safety functions also comes standard on all Corolla models. 
But the biggest change is under the hood, as the old 1.8L engine has been dropped, leaving the 2.0L as the only option in regular Corolla variants. What's more, the manual transmission has also been retired, in favour of a CVT (continuously variable transmission).
In the Corolla Hybrid, last year's 1.8-liter internal combustion engine is back, but with two notable differences: all-wheel drive and new and improved hybrid components, which boost horsepower to 134 from last year's 121. As for the new all-wheel drive, all Corolla Hybrid models (S, SE and XSE) leave the factory with it.
Finally, there's the most exciting Corolla since the mid-80s. The GR Corolla comes to battle with the other top pocket rockets on the market. Ironically, this 300-hp GR Corolla uses the smallest engine in the lineup, a turbocharged 3-cylinder mated to a 6-speed manual transmission, all-wheel drive and three distinct versions: Core, Circuit and the ultra-exclusive MORIZO. 
See also: 2023 Toyota Corolla Details, Pricing Announced for Canada
See also: 2023 Toyota Corolla Hatchback Details, Pricing Announced for Canada
See also: 2023 Toyota Corolla Hybrid Details, Pricing Announced for Canada
Toyota Crown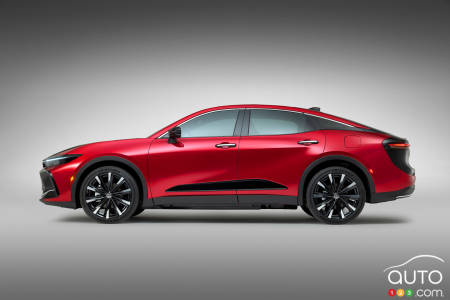 2024 Toyota Crown
Photo: Toyota
Last year, the Canadian market said goodbye to the Avalon, the most luxurious sedan the brand had had in North America for over 25 years. With the large sedan segment in free fall for several years, Toyota decided to attack the problem from a different angle. A more SUV-like angle. 
The Toyota Crown resurrects a name that hasn't been heard on the continent since the early 1970s. This time, the Crown's comeback comes with an SUV flavour to it. The new Crown is an unusual blend of SUV coupe and luxury sedan with aggressive styling and comfort worthy of the brand's larger sedans. 
The Crown also differs from its ancestor under the hood; Toyota's newest model uses exclusively hybrid powertrains, including one with 340 hp and 400 lb-ft of torque. Note also the standard all-wheel drive. It will be interesting to see how the public reacts to this curious car-SUV hybrid.
See also: 2023 Toyota Crown First Drive: Something New This Way Comes
See also: Toyota Presents the 2023 Crown Sedan – Yes, a Sedan
See also: 2023 Toyota Crown pctures
Toyota GR 86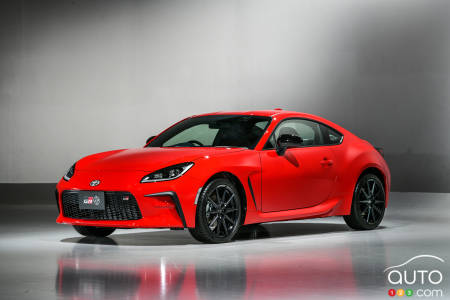 Toyota GR 86
Photo: Toyota
The 2023 model-year will be one of continuity for the adorable 2+2 coupe. Introduced in late 2021 as a 2022 model, the GR 86 coupe doesn't change anything in its new-and-improved formula. Still available in two versions (base and Premium), the brand's most affordable two-wheel-drive sports car is also available as a Special Edition. Don't get too carried away, though: this one will only be distributed in 20 units in Canada, with unique body colour, wheels and performance exhaust system.
See also: 2023 Toyota GR 86 Pricing Announced for Canada
Toyota GR Supra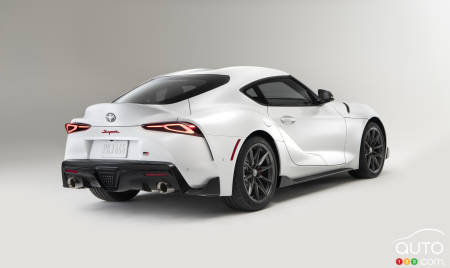 2023 Toyota GR Supra
Photo: Toyota
It's a similar story for the GR Supra, the two-seat sports car developed in collaboration with BMW, which continues to be powered by two engines, a 2.0L turbocharged 4-cylinder and a 3.0L turbocharged 6-in-line. Both engines come with an 8-speed automatic unit, but Toyota also offers a manual transmission for the 6-cylinder engine. 
For those interested, this variant is likely to climb in value in the years to come.
See also: 2023 Toyota GR Supra Gets New Manual Gearbox and a $57,170 CAD MSRP
Toyota Mirai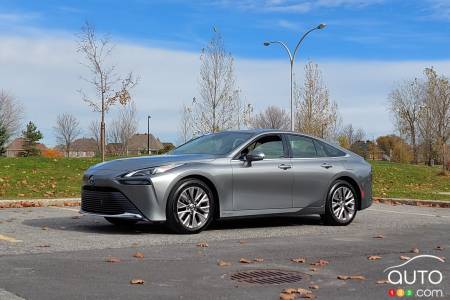 2022 Toyota Mirai
Photo: D.Boshouwers
The only hydrogen-powered sedan on the market is still on the roster in 2023, though it's questionable – with the exception of a few areas in Quebec and British Columbia where some infrastructure is available – how relevant a car that is nearly impossible to refuel is. 
In California you'll find an infrastructure, but in Canada, that's still in its infancy. For the few consumers who are interested, you should know that there are two trim levels (XLE and Limited) and that the car is now a good old-fashioned rear-wheel drive.
See also: 2022 Toyota Mirai Review: Driving on Water
Toyota Prius / Prius Prime 
2023 Toyota Prius
Photo: Toyota
For 2023, the Toyota Prius is freshly redesigned. In fact, we were able to put it to the test recently at its California launch. More powerful, sharper in design and more fun to drive, the Prius is also more capable versus the snow and ice thanks to an all-wheel drive system that now works at all speeds. 
Toyota Canada has confirmed the arrival of the Prime version sometime in 2023, but we don't know the date yet. Which makes us think that the Prime will be badged 2024 when it does debut. We also think it will outsell the regular Prius despite it being front-wheel drive.
See also: 2023 Toyota Prius First Drive: The Car That Democratized Electrification Gets a Beauty Makeover
Toyota Sienna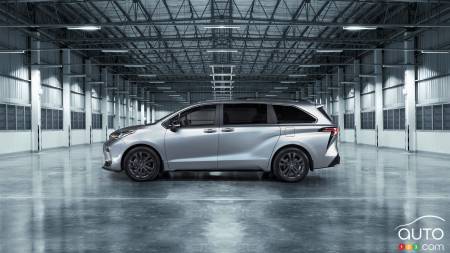 2023 Toyota Sienna
Photo: Toyota
The new Sienna is of interest to many drivers who aren't necessarily attracted by the idea of having to recharge their minivan every night. The straight hybrid option is easier to live with than a PHEV, after all, and fuel economy is good. 
What's more, the manufacturer offers no fewer than six models, with 7 or 8 passengers and the possibility of switching to four-wheel drive. 
See also: 2023 Toyota Sienna Pricing Confirmed, as the Minivan Turns 25
THE SUVs
Toyota bZ4X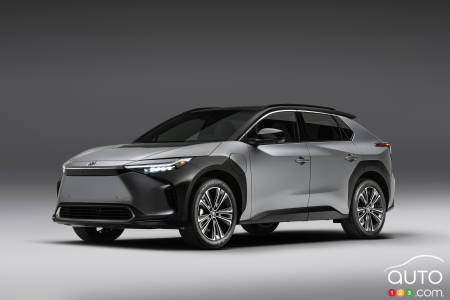 2023 Toyota BZ4X
Photo: Toyota
After a delayed start, Toyota's first-ever electric crossover will finally get to show what it can do. Those troubles to do with loose wheel bolts should be behind it, we are told. 
The automaker comes to market with four available trims: L, LE, XLE and XLE with Technology Package. The first two are front-wheel drive and deliver 201 hp with a range of 406 km. The four-wheel-drive models are good for 214 hp and 367 km of range.
See also: 2023 Toyota bZ4X First Drive: a Typically Toyota Entry Into the EV Pool
See also: 2023 Toyota bZ4X pictures
Toyota C-HR
The odd-duck pocket crossover is no longer available in 2023.
Toyota Corolla Cross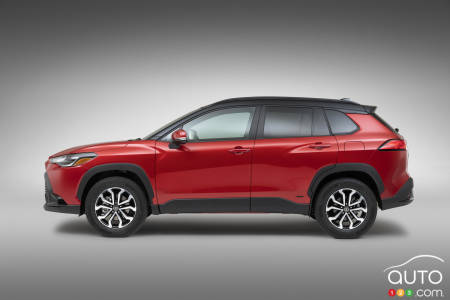 2023 Toyota Corolla Cross Hybrid
Photo: Toyota
The RAV4's smaller, complementary sibling has proved a big success in Canada, nowhere more so than in small-car-loving Quebec. 
Launched last year, the Corolla Cross is available once again in four trim levels: L, LE, LE Premium and XLE. The first two are front-wheel drive, while the last two add all-wheel drive. 
However, it's the addition of a hybrid version in 2023 that's the big news. More expensive to buy, but more frugal at the pump, the Corolla Cross Hybrid is also more powerful. This version of the crossover leaves the factory with 194 hp and four-wheel drive at its disposal. It's available in SE and XSE trims.
See also: 2023 Toyota Corolla Cross: Pricing, Trim Details for Canada
See also: 2022 Toyota Corolla Cross Review: Good, But Just Short of Great
See also: 2022 Toyota Corolla Cross pictures
Toyota RAV4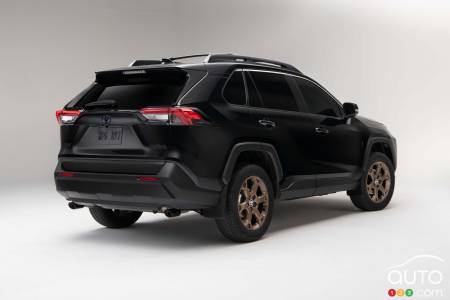 2023 Toyota RAV4 Woodland
Photo: Toyota
Toyota's compact SUV is still a favourite of Canadian motorists. Well established at the top of the sales chart (for non-full-size pickup trucks), the SUV is still as popular as ever and it comes in no fewer than 16 different versions. 
For 2023, the RAV4 Hybrid XLE Premium trim and the RAV4 Hybrid Woodland Edition are the two new variants. 
As for the choice of three engines, they are renewed without major changes. Otherwise, there are a few minor tweaks, but they're so minor they'll go unnoticed.
See also: 2023 Toyota RAV4: Pricing and Details for Canada Announced
See also: The Toyota RAV4 Hybrid Welcomes a New Woodland Off-Road Edition for 2023
Toyota Venza
The RAV4 hybrid's more upscale sibling has not reached the same level of popularity. In fact, it's entirely easy to imagine Toyota removing the midsize crossover from its lineup, public interest is that low. 
Which would be a shame, because the first generation of the model was actually quite loved by Canadians. The Venza is available in three trims: LE, XLE and Limited.
See also: 2023 Toyota Venza Pricing, Details Announced for Canada
Toyota Highlander / Grand Highlander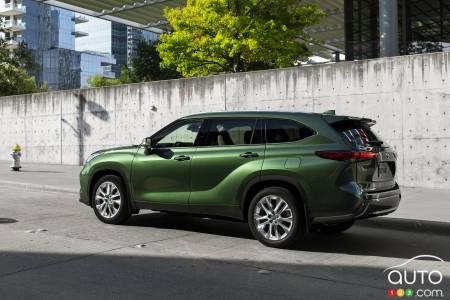 2023 Toyota Highlander
Photo: Toyota
The 2023 model-year is one of big changes for the Highlander. Not only has the V6 been retired in favour of 4-cylinder engines, but Toyota has already announced the arrival of the Grand Highlander version, set to be unveiled in February. The automaker probably wants to counter the offensive of the model's two Korean rivals, the Santa Fe and the Sorento, with their more impressive interior volume than that of the "plain" Highlander. 
See also: 2023 Toyota Highlander: Pricing, Details Announced for Canada
See also: Chicago 2023: 2024 Toyota Grand Highlander Makes its Debut
Toyota 4Runner
In the category of vehicles that almost never change, there's the mid-size 4×4 from Toyota, celebrating its 40th birthday this year. There's a Special Edition to celebrate this noteworthy milestone. There will be 400 units of this anniversary version available in Canada. 
Even if the 4Runner doesn't appeal to as wide an audience as the RAV4, Toyota will still offer six trim levels in 2023: SR5, TRD Sport, Limited, 40th Anniversary Special Edition, TRD Off-Road and TRD PRO. 
Toyota Sequoia
The full-size SUV segment has been dominated by Ford and GM for ages, while Jeep joined the party last year with the Wagoneer line. 
Toyota, despite the Sequoia's lacklustre sales performance in Canada, continues to market the big vehicle here. For 2023, however, the largest Toyota SUV will go electrified, with the same powertrain as in the hybrid versions of the Tundra pickup being the only mechanical option. 
The good news is that Toyota has completely revamped the SUV, which, like the Tundra, raises its game a notch with the ultra-luxurious Capstone edition. 
See also: Toyota Unveils the Next-Generation 2023 Sequoia
See also: 2023 Toyota Sequoia pictures
THE PICKUP TRUCKS
Toyota Tacoma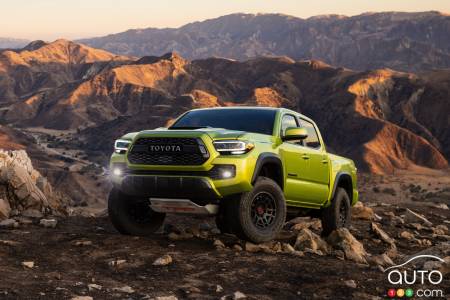 2023 Toyota Tacoma TRD Pro
Photo: Toyota
The best-selling mid-size pickup in North America is also the oldest technologically. Despite this, its manufacturer shouldn't be too worried about the future of its popular pickup, which is just as attractive as it was in its early days, mainly because it's indestructible and also because of its resale value. 
In fact, with eight different trims, consumers will have to do some picking and choosing before setttling on the one that lights them up. 
Powered by the unique 3.5L V6 engine – the 4-cylinder was dropped a few years ago – the Tacoma can expect a mini-revolution under the hood when its maker unveils the next generation of the model. 
It wouldn't be surprising if Toyota followed the competition with one or two 4-cylinder engines. In fact, we can expect a hybrid option like the one offered on the Tundra. 
In fact, if the manufacturer takes this route, it's a return to its roots, as the mid-size pickup was first marketed with a 4-cylinder when it arrived in North America. 
See also: 2023 Toyota Tacoma details, pricing announced for Canada
Toyota Tundra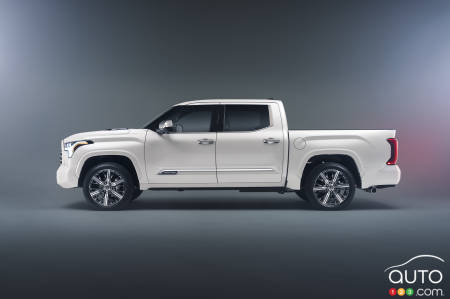 2023 Toyota Tundra
Photo: Toyota
The Japanese automaker's big truck changes little in 2023. Consumers can choose between a twin-turbo V6 or a twin-turbo V6 grafted to a hybrid system. And while the choice is not as extensive as with the American competition, the Tundra can still be ordered with a few bed and cab combinations.
Consult our other 2023 model-lineup overviews:
2023 Hyundai Lineup in Canada: Models and Changes
2023 Honda Lineup in Canada: Models and Changes
2023 Kia Lineup in 2023: Models and Changes
2023 Ford Lineup in Canada: Models and Changes
2023 Mazda Lineup in Canada: Models and Changes
2023 Nissan Lineup in Canada: Models and Changes
2023 Subaru Lineup in Canada: Models and Changes

link